Liver Cancer
Liver cancer is a primary cancer, meaning that it originated in the liver. (As opposed to liver metastases, or secondary liver cancers, which have spread to the liver from other organs.)
Liver cancer is responsible for more than 12,000 deaths a year in the United States and is being diagnosed more frequently. It is more common in men than women and in African Americans than whites.
It is commonly associated with cirrhosis and hepatitis. Other risk factors can include a history of alcohol use.
What is the treatment for liver cancer?
Treatment for liver cancer includes a combination of the following:
Surgery to remove the tumor(s).
Liver transplant
Percutaneous ablation performed by an Interventional Radiologist
Intra-arterial therapies (Chemoembolization, Radioembolization) performed by an Interventional Radiologist
Chemotherapy
What is Transarterial Chemoembolization (TACE)?
Chemoembolization is a palliative treatment for tumors found in the liver. This can be a tumor that started in the liver (primary liver cancer or hepatoma) or a liver tumor that has metastasized (spread) from another area of the body. Chemoembolization can be used alone or in addition to chemotherapy, radiation therapy or radiofrequency ablation.
Chemoembolization delivers chemotherapy directly to the liver tumor through the artery that supplies blood to the tumor. The artery is then blocked ("embolized") to cut of blood flow to the tumor. This procedure accomplishes a few things:
Deprives the tumor of oxygen and nutrients once the blood supply is blocked.
Because the chemotherapy is injected directly at the tumor, the dose is higher than what can be given safely through a vein (IV).
Because the artery is blocked, no blood washes through the tumor. As a result, the chemotherapy stays in the tumor for a much longer time – as long as a month.
There are fewer or milder side effects compared with chemotherapy given in a vein because the medications are trapped in the liver and not circulating through out the body.
Chemoembolization can be performed using chemo eluting beads or a conventional mixture of chemo and an oil (lipiodol).
How is TACE done?
TACE is done by an interventional radiologist (a doctor who specializes in procedures that are guided by X-ray images).
An anesthetic (numbing medicine) will be applied to your skin. It will sting for 5 to 10 seconds. Then the area will be numb and you will not feel pain.
Your doctor will make a very small nick in the skin (less than ¼ inch long) in your groin.
Your doctor will then thread a tiny catheter (small plastic tube) into an artery in your groin and then advance a smaller catheter into the artery in your liver that carries blood to the tumor. X-ray images will help your doctor place the catheter in exactly the right place. Chemotherapy is sent through the catheter into the tumor.
Then, tiny beads or mixuture are injected into the artery. These beads or solution then travel toward the tumor and block its blood supply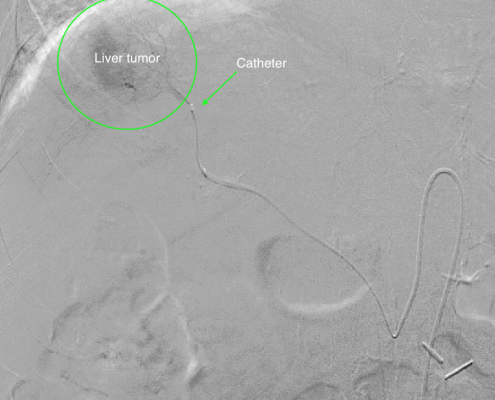 The above information is not all inclusive of the risks, alternatives and benefits. It is not meant to be a substitute for informed discussion between you and your doctor, but can act as a starting point for such a discussion. There are complications possible with any medical procedure. Overall, minimally invasive procedures have a lower complication rate than open surgeries.