How can renal cancer be treated?
There are two possible approaches to treat renal tumors, surgical resection and non-surgical ablation. You maybe offered one or both of these options depending on the tumor size. Options include percutaneous (non-surgical) cryoablation, surgical partial or total removal of the kidney and surgical "key-hole" ablation. Contact us today to see if you are candidate for a non-surgical approach.
Make sure you are informed of your options! Read more below and find out how our doctor can help.
What is renal cell cancer?
The kidneys are in the back of the abdomen that filter blood and remove waste, which they convert to urine. Urine is then carried from the kidney to the bladder by a tube called the ureter.
If you have been diagnosed with a renal tumor, you should understand that most, but not all, tumors in the kidney are renal cancers. Biopsies are usually taken at the time of the cryoablation procedure with the intention of determining whether the tumor is renal cancer. In some circumstances, a biopsy is done before any treatment is carried out. Occasionally, the biopsy does not mak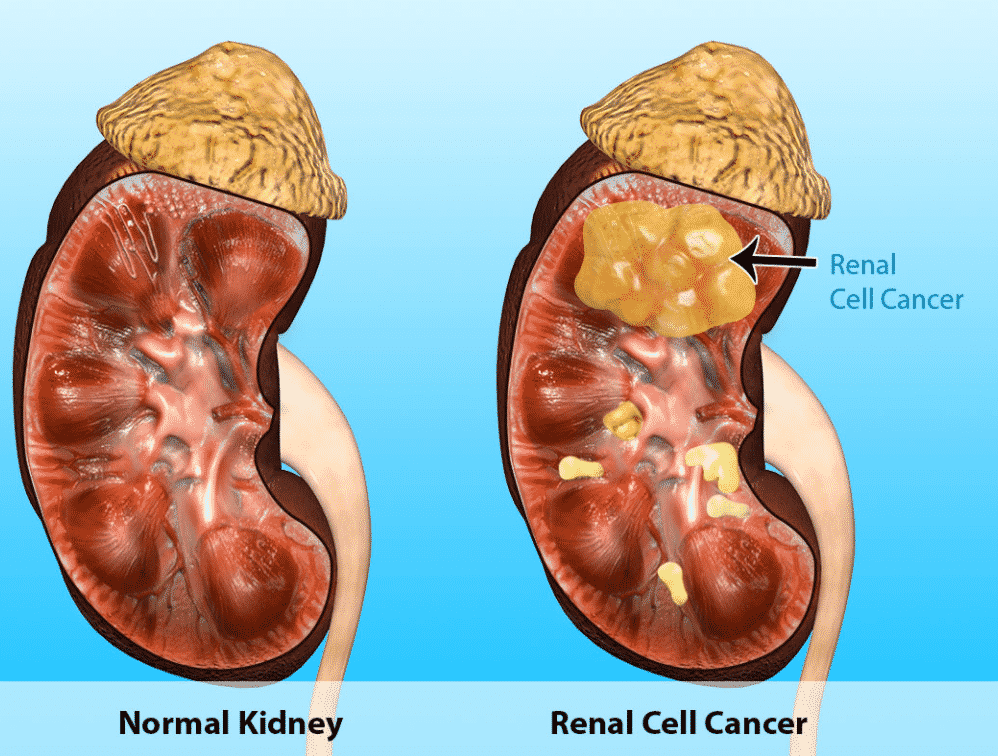 e a definite diagnosis. Your doctor will discuss the biopsy results with you after the procedure.
Small kidney tumors are usually cancerous and so many patients are advised to undergo treatment. Occasionally despite successful treatment of the tumor in the kidney, the cancer can come back elsewhere and requires further treatment. Treatment of small kidney tumors is intended to reduce this risk as much as possible. Treatment is available for metastatic kidney cancer (cancer which has spread to other parts of the body), but it tends to be less effective than treatment for localized kidney cancer.
What is cryoablation?
Cryoablation is a non-surgical treatment that uses extremely cold temperatures to kill the cancer cells without cutting a patient open.
Although surgeons use this method to treat tumor through "key-hole" surgery, Interventional Radiologists use the same method without making a skin incision.
Doctors started using cryoablation to treat small kidney cancer tumors as early as 1999. To treat a patient with cryoablation, doctors create ice using specially designed probes, through which compressed gas is circulated. The ice is very precisely shaped to freeze the tumor and destroy all of the cancerous tissue within the kidney, while healthy tissue and surrounding organs are protected.
Interventional radiologists can place these needles into the kidney through the skin without having to make an incision. The high resolution imaging technology that they are trained with enables visualization of the tumor with accurate placement of the cryoablation probes without the need for a surgical incision. The entire tumor can be visualized during the treatment.
What are the benefits of percutaneous cryoablation over surgery or open cryoablation?
A minimally invasive treatment option – less invasive than standard or robotic laparoscopic partial nephrectomy (LPN)

A treatment that demonstrated 95%effectiveness in targeted tumors

Nephron-sparing treatment (healthy, functioning kidney remains)

Clinical data supports safety and effectiveness

Decreased blood loss versus surgery (including laparoscopic surgery)

Multiple tumors can be treated in one session

Single treatment, performed on outpatient basis or requiring just one overnight stay

Shorter recovery time than partial nephrectomy permits rapid return to everyday life

Can be used when other treatments, such as prior surgery, have failed

May be suitable for patients who cannot tolerate general anesthesia

Less painful than radiofrequency ablation

Lower morbidity (side effects) than partial nephrectomy (including laparoscopic)

Can be repeated, should the cancer return

Is renal cancer cryoablation performed by an Interventional Radiologist or a Urologist?
While laproscropic "key-hole" or surgical cryoablation is performed by a urologists, non-surgical percutaneous cryoablation is performed by an interventional radiologist. This involves placing the needles through the skin into the kidney under anesthesia rather than making an incision to open the abdomen. Interventional radiologists specialize in image guided procedures using CT, ultrasound and MRI.
Why should I get renal cancer cryoablation done by Dr. Allaei?
Our physician specializes in image guided treatments and has performed numerous cryoablation treatments of kidney tumors. Numerous cancers determined to be difficult to access by other specialists have been successfully treated by Dr Allaei.
How long does kidney cryoablation take?
The procedure length will vary according to the size and location of the tumor, but usually takes about one hour.
How effective is cryoablation for kidney tumors?
When the right cancers are picked for this kind of treatment, better than 9 out of 10 tumors are completely killed. Even if some cancer is left over, most of the time it can be killed with a second treatment. Though it's uncommon, this treatment doesn't work for everyone, especially for large tumors for which resection or removal of the kidney would be more appropriate.
Numerous studies document cryoablation efficacy for local tumor control after a single treatment. Clinical evidence documents oncologic outcomes following cryoablation are comparable to the oncologic outcomes following partial removal of the kidney.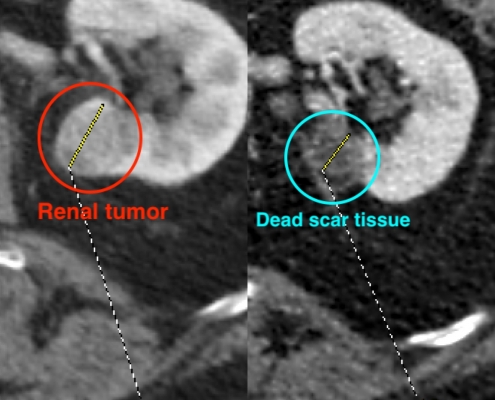 How can I get a consultation to see if I am a candidate for kidney tumor cryoablation?
Please complete a consultation request and a representative will contact you to setup an appointment.
How long will I need to stay in the hospital?
Some hospitals carry out percutaneous kidney cryoablation as a day-case, meaning you do not need to stay in the hospital overnight. Other doctors prefer their patients to stay in overnight (depending on other associated conditions) for observation. Your doctor will want to make sure that you are eating, drinking and urinating comfortably before you leave the hospital.
How long before I can return to work and other activities?
Your doctor will advise you on when it is sensible for you to return to work and resume other activities. Unlike laparoscopic or open surgery there is essentially no downtime for this procedure and most patients are back to their normal day-to-day activities upon discharge.
Is renal cancer cryoablation painful?
The procedure is done under general anesthesia or with moderate sedation. The area will also be numbed with lidocaine prior to placing the needles. The actual treatment is not painful and you may sense the cooling of the needles.
What are potential complications of renal cancer ablation?
Because the Interventional Radiologist (IR) is specially trained to do these kinds of treatments, the risks are very low. It depends on what your cancer looks like, where it is in the kidney, and what other organs are close to the cancer.
The specialist first looks at your scans very carefully and decides what the best and safest treatment will be. It's always good to talk with the Interventional Radiologist about the risks before the treatment.
Patients treated with cryoablation, compared to patients undergoing surgery, have less risk of bleeding because the physician is not actually cutting into the kidney. Similarly, not incising the kidney minimizes the risk of a complication known as "urine leak." As used here, the term "urine leak" refers to urine leaking from the kidney's internal collection system. This happens when the collection system is disrupted by the incision made into the kidney.
During the double freeze-thaw process of cryoablation, injury to nearby structures such as the blood vessels, spleen, liver, pancreas or bowel can occur. Great care is taken during every cryoablation procedure to avoid these injuries, and pre-procedure imaging studies aid the physician in planning the best approach, technique, and placement of the cryoablation needles to minimize trauma to healthy kidney tissue and adjacent structures.
For patients undergoing cryoablation complications from pain killers are also rare since there is minimal post-operative pain.
There are complications possible with any medical procedure and renal cryoablation is no exception. Complications include problems related to general anesthesia and cardiovascular problems such as heart attack, stroke, deep vein thrombosis and pulmonary embolus. These problems rarely occur, and the risk depends on the patient's general fitness for surgery and previous medical problems.
Published data show that the location and size of the lesion can affect the risk for certain complications, as can the approach and technique employed to access the kidney. Overall, minimally invasive procedures have a lower complication rate than open surgeries.
---
The above information explains what is involved and the possible risks of treating renal cancer. It is not meant to be a substitute for informed discussion between you and your doctor, but can act as a starting point for such a discussion.
---
Read more about renal cancer cryoablation here:
Percutaneous Kidney Tumor Cryoablation PDF
What is a Interventional Radiology?
Interventional Radiology (IR) refers to a range of techniques which rely on the use radiological image guidance (X-ray fluoroscopy, ultrasound, computed tomography [CT] or magnetic resonance imaging [MRI]) to precisely target therapy. Most IR treatments are minimally invasive alternatives to open and laparoscopic surgery and start with passing a needle through the skin to the target.